Florida continues to attract new residents, resulting in a double digit price hike for multifamily housing.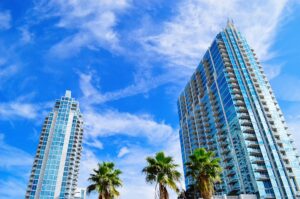 According to the Realtor.com, analysis, Miami/Fort Lauderdale/West Palm Beach, Tampa/St. Pete/Clearwater, and Orlando/Kissimmee/Sanford were the top 3 markets in the nation for the largest rental increases.
The metro Tampa area ranked second in the nation in 2021 for the fastest rent growth, 25.6%. realtor.com reported.
ABC Action News report
The Miami area median jumped by 49.8 percent to $2,850 a month in December 2021.
The Tampa area was close behind with median rents hitting $2,038, a year-over-year increase of 35 percent.
Finally, the Orlando area saw median rent increase by 34.1 percent to settle at $1,807 a month.
Nationally, the median rent for a two-bedroom home has risen by 19.1 percent, or $320, since December 2020 and was 23.9% higher ($387) higher than in December 2019. The national median for one-bedroom units hit $1,651 in December, 19.3 percent higher year-over-year ($267) and 20 percent higher ($275) compared to December 2019.
Not to be left behind, studio apartment rentals saw the median rent hit $1,462 in December. That was an 18.6 percent rise ($230) in prices year-over-year for a studio apartment.
With all these rent increases comes renovations and upgrades to entice new renters and retain current ones. Here are a few impacting and cost effective remodels that will add significant value to your property.
Create curb appeal
It's the first people see, the exterior of your property. There are a variety of ways to breath new life into your property.
Painting
Painting is a great way to freshen up the exterior of a building. It also creates a space that is appealing and well tended.
Siding
If your current siding looks worn and faded, it can discourage anyone from moving in. Having a contractor install new siding can do wonders.
Landscaping
Landscape is the welcome mat to your property, it is important it look good.
Check back with us next week for more trends to attract renters for your multifamily housing. Until then, contact SWET Construction Group for more information.