In multifamily housing, it's all about the value. Whether you are building new construction from the ground up in the Southeastern United States, remodeling, or renovations, increases the value and makes the property more attractive to tenants. It is also a great way to stay ahead of the competition. 
Successful strategies for unit renovations
Quality Over Quantity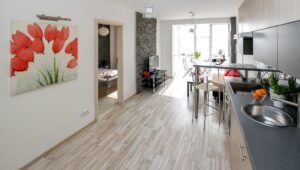 While it is important to make lucrative investments, with high return on investment, when it comes to multifamily housing, equally important is ensuring your tenants are happy. 
For instance, the kitchen is the heart of the home. It is a crucial area for tenants. These renovations can include new paint, counter tops, knobs, cabinets, and faucets. 
Strategic Renovations 
Focus on renovations that will give you the highest return on your investment. Putting your investment into areas where it will maximize your return. 
Exterior renovations create a great first impression. A new coat of paint with an updated color, replace outdated siding, decorative elements, new Hardscapes.
Energy Efficiency 
"Energy efficiency can make a huge difference in the bottom line for multifamily building owners," said Kate Johnson, ACEEE senior policy analyst. "In addition to lower utility bills, owners have happier tenants because units are more comfortable. That means lower tenant turnover and higher occupancy rates, which also makes a big impact on cash flow for building owners."
Renovations of your multi-family housing presents the opportunity to reduce your facility's energy demand by installing energy-efficient insulation, doors, windows,fixtures, and appliances. Not only will this keep your operating costs down, it will make your facility more attractive to customers, tenants and patients. SWET Construction Group takes great pride an integrated approach to design and space planning for positive impacts not only for the building but also for the environment.
SWET Construction Group partners with owners of Multi-family housing to increase their return on their investment. We offer competitive pricing, innovative practices, clear communications and a trusted partnership. We also provide insights, essential data, news and extensive information to better inform their clients and strengthen their market position.
Contact SWET Construction Group Today