Staying competitive in your multifamily housing in Florida or Georgia, isn't always easy. Building new construction and renovations protects to create more attractive and efficient units.
Cutting out wasteful spending during construction, while keeping up with the latest trends and keeping your multifamily property in high demand is a fine balance.
Smart home devices
Prospective renters are looking for the latest smart home devices. Technology that makes life more convenient is high on today's tenants list of what they want. Smart thermostats, lights, and locks, that can be managed remotely and improve safety and efficiency.
Amenities that attract tenants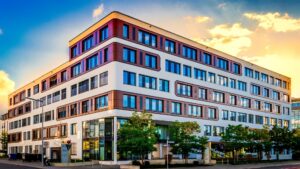 When constructing a new multifamily housing community, it is important to be strategic about your community space and amenities.
It is easy just to build the typical gym, office space, yoga room, and other recreation areas, but how often will these be used?
In the last couple of decades, the way people socialize, live, shop, and work, has changed. Will different amenities be more attractive to prospective tenants? Amenities that meet lifestyle needs can include, pet friendly spaces, comfortable outdoor areas, and enhanced storage or mailboxes to accommodate deliveries.
Great design
A great exterior and interior design definitely attracts tenants.  A balance of integrating the latest trends and classic finishes, will keep your units looking fresh and attractive longer.
Lifecycle cost
While it is important to watch the bottom line and keep construction cost low, it shouldn't end up costing you more in the long term, reducing your return on investment.
Sustainable, environmentally friendly, and a reduced life cycle cost of the building, have become very hot topics. Resource intensive communities are incorporating high efficient HVAC and lighting systems, vehicle charging stations, lockers for bikes, newest technologies, and streamlined floor plans.
Partnering with the right construction group
Creating an attractive and efficient multifamily housing, means partnering with the right construction group.  A team that understands and listens to your vision.
SWET Construction Group is a leader in new construction and renovations of multi family housing industry. Partnering with us will not only keep your construction costs low while achieving a beautiful architectural design, they will ensure your project is a great success by displaying quality traits such as preparedness, flexibility and awareness.